OhVincent.com has launched to query a decision made by the Van Gogh Museum over a disputed Van Gogh painting with probable provenance to a close friend of the Dutch Master.
The landscape scene, titled Farmhouse with Barn and Well was discovered several years ago during the demolition of a dilapidated inn in rural Belgium. The oil painting on canvas is signed 'Vincent' in red paint, and likely dates to late 1885, Van Gogh's Dutch period.
The earthy-toned palette, and subject matter help determine a date of execution. The calculated use of impasto, forged with structured brush stroke patterns leave no question that Vincent Van Gogh had a hand in its creation.
There are undoubtedly dozens of unauthenticated Van Gogh paintings scattered around the world that have not yet been discovered, or at least deemed authentic by the only authority recognized to do so.
We have learned from previous unveiling ceremonies that several paintings by Van Gogh have sadly replicated his very existence; once dejected in some dark, dreary crevice yearning for recognition, only to surface years later and be validated by the namesake museum in Amsterdam.
Of course, the materialization of new works by Van Gogh is a fanfare to the art world, but it is also exceptionally rare. Experts at the Van Gogh Museum disregard almost all newly discovered paintings, even when provenance can be traced back to the artist.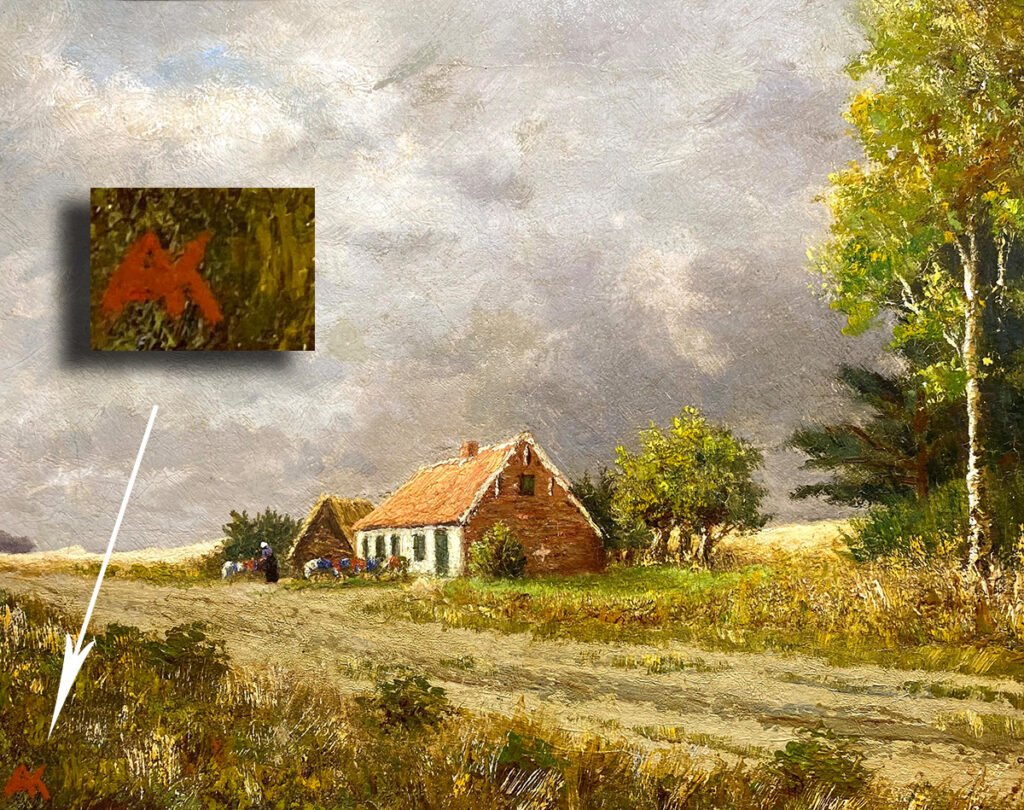 Farmhouse with Barn and Well is one such painting dismissed by experts, and one of which almost certainly holds provenance to Vincent's good friend and pupil, Anton Kerssemakers.
The two artists shared days, sometimes weeks at a time in Anton's studio, as well as venturing the back roads of Eindhoven together to paint Plein-air. Naturally, during these creative outdoor expeditions, they chose to paint the same scene for student/tutor reference. Scenes such as The Water Mill at Gennep, Autumn Landscape with Four Trees, several subjects of still life, and the Dutch rural landscape.
Many people are unaware that Vincent van Gogh and Anton Kerssemakers worked on, and in fact, signed a joint painting; a small landscape painted in the spring of 1885 titled Farmyard and Barns. 
This unique collaboration was the topic of a six-page article written in 1989, by art historian and former curator of The Netherlands Institute for Art History, Martha Op de Coul. The article, titled "A Painted Impression of Brabant: A Joint Work by Vincent van Gogh and Anton Kerssemakers" introduces the reader to a painting that was signed by Vincent while still wet to credit both artists. Op de Coul points out that the study was most likely painted outdoors during a joint excursion by the two artists; Kerssemakers supplied the general design, and Van Gogh added the finishing touches.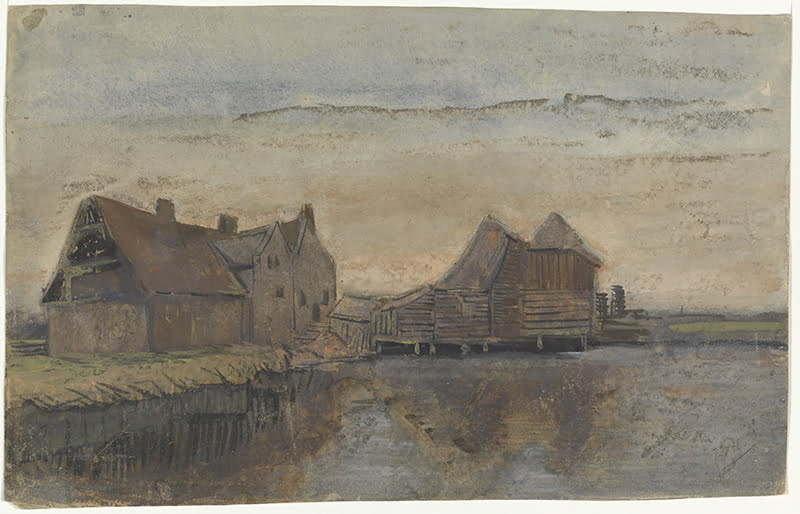 Martha Op de Coul had initially joined the institute for art history as a research assistant to Dr. Annet Tellegen, and it was Dr. Tellegen, a well-respected expert on Van Gogh, who was the first to distinguish that Vincent and Anton shared a hand in other paintings. Anton Kerssemakers painted two different scenes of the Water Mill at Gennep, while Vincent painted four; Dr. Tellegen demonstrated that one of Anton's versions had all the signs of Vincent's hand at work, in particular a barn. The painting was assigned to Anton Kerssemakers with a fake Vincent signature, but concluded most convincingly that Vincent Van Gogh worked on the painting along with his friend and pupil. 
Another example of Vincent assisting his friend and pupil with brush stroke work can be seen in Anton's version of the painting Still Life with Clogs and Pots. During a magazine interview given in 1912, the amateur artist reflected on the incident by stating: "Once, when we sat together in my studio painting the same still life, nothing more than a pair of wooden shoes and some pots taken at random, I sat daubing away at it in my own manner, laying on the color and scratching it off again without being able to get any relief into it, Vincent suddenly walked over to me: "Look here, now you put a dark transparent touch there and there – no, you needn't be afraid, I'll not spoil your drawing -" – and at the same time he was already assailing my tiny canvas with his big broad brush. "Do you see? Like that. Look, now the other part comes to the front. It is wrong to go brushing away on the same spot, you must set it all down at once and then leave it alone; don't be afraid, and don't try to make it pretty. We will leave it at that for today, and now we have to paint outside together: if you want I will come here, otherwise you can come to Nuenen again".
As Anton's tutor, it was not unusual for Vincent to make adjustments or enhancements to his student's artwork, just as Anton Mauve had when tutoring Vincent in The Hague.
There are four other paintings (below in B/W) in the Netherlands currently attributed to Anton Kerssemakers that have long been disputed as Van Gogh's. These paintings are by the same hand (or hands) as the painting in question, with verified provenance to the Keunen family, who are Anton Kerssemakers' descendants through marriage. It is important to note that these four paintings have been examined by several prominent institutions who claim they are authentically Van Gogh, yet the namesake museum says otherwise.
Since the Van Gogh Museum is the only authority in the world with the ability to conclude whether a Van Gogh painting is, in fact, a Van Gogh, all works by the Dutch master unequivocally deemed authentic by other institutions hold no warrant. The museum has determined that the painting in question cannot be by Vincent van Gogh based on "stylistic features", a term they frequently use to justify their decisions.
In early 2020, a series of photographs referencing the painting in question was emailed to the research department, along with stark comparisons to Vincent's work; researchers at the Van Gogh Museum have been wrong before, and 'Farmhouse with Barn and Well' has never had the scientific tests needed to help determine a decisive decision. The recognizable attributes of Vincent van Gogh in the painting Farmhouse with Barn and Well, far outweigh those that don't.
The painting has suffered extensive damage over the years, as had several of Van Gogh's canvases, and if indeed this is determined as work by Vincent Van Gogh, or at least partially, then cleaning and restoration is of paramount importance. Surely, the art world owes this to the man who, despite his personal torment, gave us Sunflowers; one thing for sure, the Van Gogh Museum in Amsterdam does.
The website, OhVincent.com invites art historians, conservationists, galleries, museums, and art lovers alike who might offer some additional insight into the painting.
For more information regarding the painting in question, visit the pages of OhVincent.com to compare in-depth comparisons such as brush strokes, provenance, and more.
Email: [email protected] or [email protected]