Van Gogh and Anton Kerssemakers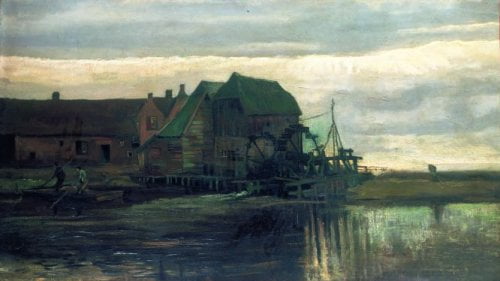 Vincent's new acquaintance was Anton Kerssemakers, a wealthy, and well respected tanner who practiced painting as a hobby, at least initially. The two had met through Jan Baijens, the owner of the local paint supply store who furnished both Vincent and Anton with canvases and oils.
Kerssemakers, along with Antoon Hermans, Willem van de Wakker and Dimmen Gestel all became students of Van Gogh, and were all from Eindhoven.
 Vincent and Anton went on to become sincere friends who would travel together to attend exhibitions, and socialize outside the realms of a student/teacher relationship.
Kerssemakers was seven years older than Vincent, and they shared an intellect few could match to stimulate Vincent in conversation. Suffice to say, they spent days, sometimes weeks painting together at Anton's home, or venturing outdoors to rural locations where they would paint together – occasionally painting the same scene.
Many people are unaware that Van Gogh and Anton Kerssemakers worked on, and in fact, signed a joint painting; a small landscape scene painted in the spring of 1885 titled Farmyard and Barns. Vincent, as his tutor, would often make adjustments or enhancements to Anton's paintings. – Vincent also collaborated with his good friend while in Paris, Henri de Toulouse-Lautrec 
The painting in question is almost certainly by Anton Kerrsemakers, enhanced by Van Gogh. 
There is a possibility that Anton returned the favor by adding Vincent's name. The red pigment seems to match the color AK used to sign his paintings. All notions are feasible, especially when there is another authenticated Kerssemakers painting enhanced by Van Gogh with a fake Vincent signature!
X-rays and (IR) Infrared Reflectography has helped provide some of the answers, but paint analysis is very expensive so this will need to wait.
The painting 'Approaching Thunder Storm' appears to be the same farmhouse as the painting in question. It is also possible that Vincent painted this subject from the other side, during one of their many Plein-air outings together. Anton's tree trunks are very different from Vincent's. The painting in question "Farmhouse with Barn and Well" must surely be that of Vincent's hand or at the very least a joint effort! 
The unique collaboration between Vincent and Anton's joint painting, Farmyard and Barns is the topic of a six-page article written in 1989, by art historian and former curator of The Netherlands Institute for Art History, Martha Op de Coul. The article, titled "A Painted Impression of Brabant: A Joint Work by Vincent van Gogh and Anton Kerssemakers" introduces the reader to a painting that was signed by Vincent while still wet to credit both artists. Op de Coul points out that the study was most likely painted outdoors during a joint excursion by the two artists; Kerssemakers supplied the general design, and Van Gogh added the finishing touches.
Martha Op de Coul initially joined the institute for art history as a research assistant to Dr. Annet Tellegen-Hoogendoorn, and it was Dr. Annet, a well-respected expert on Van Gogh, who was the first to distinguish that Vincent and Anton shared a hand in other paintings. 
Kerssemakers painted two different scenes of the Water Mill at Gennep, while Vincent painted four; Dr. Annet demonstrated that one of Anton's versions had all the signs of Vincent's hand at work, in particular the barn. The painting was assigned to Anton Kerssemakers with a forged Vincent signature but concluded most convincingly that Vincent Van Gogh worked on the painting along with his friend and pupil.
Both of these VG experts were employees of the RKD, (the Netherlands Institute for Art History). They prepared the revised catalog raisonné by De la Faille's The Works of Vincent van Gogh. His Paintings and Drawings, published in 1970 replacing the first edition from 1928. Martha went on to become curator of the RKD.
Another example of Vincent assisting his friend and pupil with brush stroke work can be seen on Still Life with Clogs and Pots which they both painted simultaneously. In an interview Anton gave the Amsterdam magazine 'De Groene' he stated: "Once, when we sat together in my studio painting the same still life, nothing more than a pair of wooden shoes and some pots taken at random, and I sat daubing away at it in my own manner, laying on the color and scratching it off again without being able to get any relief into it, he (Vincent) suddenly walked over to me: "Look here, now you put a dark transparent touch there and there – no, you needn't be afraid, I'll not spoil your drawing -" – and at the same time he was already assailing my tiny canvas with his big broad brush. "Do you see? Like that. Look, now the other part comes to the front. It is wrong to go brushing away on the same spot, you must set it all down at once and then leave it alone; don't be afraid, and don't try to make it pretty.".
The four paintings below (shown in black and white), belong to the Keunen family who are being represented by art dealers Sophie and Klaas Elzinga who own a gallery in the Netherlands. –  These four paintings have long been disputed as Van Gogh's and are currently attributed to Anton Kerssemakers by the Netherlands Institute for Art History. One must add that the Keunen family are indirect descendants through marriage of Anton Kerssemakers; Anton's daughter, Catharina Joanna Josephina Kerssemakers 1879-1965 (also known as Catharina Keunen-Kerssemakers) married Jules Marie Henri Keunen (1880-1951); They, in turn, had Eduard Julus Antoon Keunen aka Everard, Julie Maria Josephina Keunen, Josephina Johanna Catharina Keunen 1912-1995, George Emmanuel Henri Keunen and Antoon Keunen. All were born in Eindhoven, Netherlands.
The four paintings have undergone extensive research by scientific analysts and Van Gogh experts, and prove that Van Gogh at least had a hand in the works. The painting in question is said to be part of this series. 
We are aware that Vincent and Anton painted together, that Vincent spent many a day at Anton's house, and also that his friend stored some of his paintings, including one of Vincent's most famous paintings, The Potato Eaters. Having studied the painting in question excessively over the past two years, I am convinced that it falls under one of three categories: 1. It is a painting by Vincent Van Gogh. 2. It is a painting by Anton Kerssemakers. 3. It is a painting by both of them; I am 100% convinced that the artist responsible for the four paintings in this video also had a hand in the painting in question.
I have also examined Anton Kerssemaker's brushwork, and much of Farmhouse with Barn and Well does not correspond with his technique but DOES with Vincents.
"Van Gogh is said to have made the paintings between 1883 and 1885 in his Brabant period."
According to Sophie and Klaas Elzinga, several experts have examined the works and claim they are the real deal. Klaas states that "the skies are unrivaled by him (Vincent)" and that the color matches the time frame. He also notes the depiction of the figures are typical of Van Gogh: "is it beautiful or not beautiful? That can be discussed, but they are 100% real".
The only authority on Vincent Van Gogh authentication is the Van Gogh Museum who say the paintings are not real, claiming that the style doesn't quite match. (This is the same reasoning they gave the owner of the painting in question stating that "based on "stylistic features" the painting cannot be attributed to Vincent Van Gogh").
The Elzinga's had the four paintings appraised by Tefaf, the world's pre-eminent organization for fine art, at  between 8 and 10 million pounds each.
In the video, Sophie Elzinga goes on to say that "money isn't the most important thing. It is about the principle of recognition. It's just squandering the heritage of this great artist".
Postcard from Vincent to Kerssemakers
 Nuenen, Thursday, April 9 1885
I'm not sure whether I can come and paint next Saturday. Because I'm making a couple of studies here — of the potato planting — on which I may possibly have to continue to work on the day in question.
But if not Saturday, I'll come anyway — unless I hear from you to the contrary — on Monday.
Yours truly,
Vincent