Van Gogh Signatures
When we examine the signature from the painting in question, it is very similar to some of the signatures on Vincent's other known works, but I am unsure whether it yields the artist's hand. This, of course, doesn't necessarily mean the painting itself isn't, as with View of the Sea at Scheveningen painted by Vincent in 1882, which sported a fake signature, and was also part of the Breda crates.
The likelihood of this painting (Farmhouse with Barn and Well) being a collaboration is exceedingly high; therefore, it would make sense for Vincent's student and friend Anton Kerssemakers to add the signature, especially given the poppy-colored red. Then again, it could also very well be Vincent himself; Poplars near Nuenen is not only painted over a previous composition of the old church tower and cemetery in Nuenen, (likely composed in 1884), but the signature appears to have been added at a later date, possibly even as late as his Parisian period.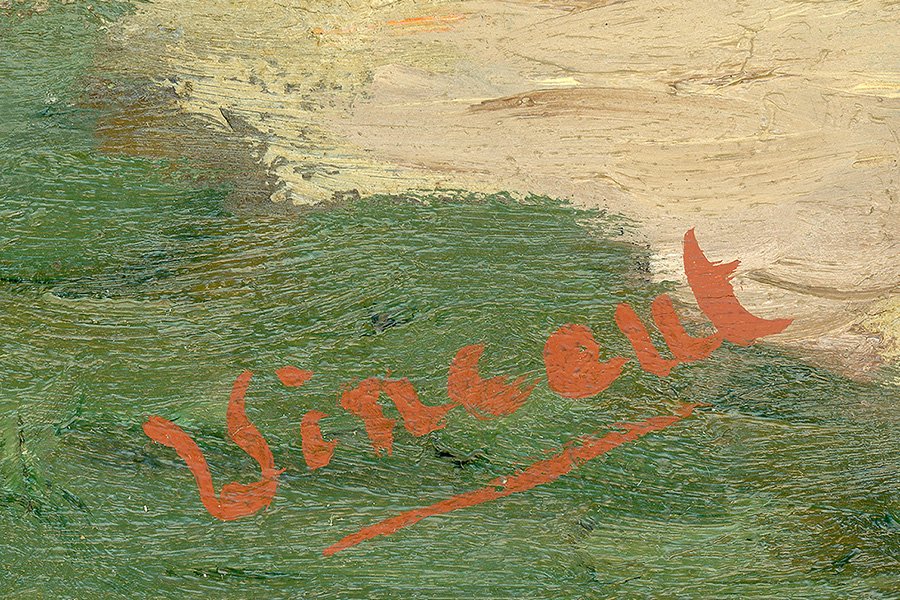 Signature analysis could determine who, when, where. HOWEVER, the painting has been restored, or (patched), albeit not very well; therefore, this signature observed with the naked eye COULD INDEED BE COVERING THE ORIGINAL SIGNATURE. IN FACT, I BELIEVE IT DOES!! See image below
Vincent van Gogh and Anton Kerssemakers worked on several paintings together and, in fact, signed a joint painting in 1885, a small landscape scene titled Farmyard and Barns. Vincent, as his tutor, would often make adjustments or enhancements to Anton's paintings.
You can learn more about the collaborative works of Van Gogh and Kerssemakers, as well as view the signature by Vincent for BOTH artists here.