The Breda Crates consisted of approximately sixty paintings, one hundred and fifty loose canvas paintings, eighty pen drawings, and between one and two hundred crayon drawings. Either given away, sold for cents, or auctioned.
Vincent left behind this extent of work when he moved to Paris and ultimately abandoned, leaving others to claim ownership.
Vincent Van Gogh was a nomad. He never really settled in one place for too long, and it was through such travels that his drawings and paintings could be found across central Europe during his lifetime. It also meant that many of his works were left behind in various locations.
He came from a middle to upper-class family. Yet, he chose to spend his earlier years living in rural poverty among the peasant laborers and coal miners of Borinage, Belgium. He worked as a missionary in Borinage, but when church authorities discovered he was living in squalid conditions, they terminated him for what they believed was undermining the dignity of the Priesthood. He was also a Protestant among Catholics.
Although this was a painful experience for Vincent, it turned out to be a blessing in disguise.
Vincent returned home to where his parents were then living in Etten, but it wasn't long before he left for The Hague, where he learned to use oils by his cousin through marriage, Anton Mauve. Up until now, Vincent had been using reed, pen, ink, chalk, pencils, and watercolors.
The first Van Gogh "masterpiece" using oils on canvas came in April of 1885 when Vincent was living back home with his parents, now in Nuenen at the parsonage. The masterpiece was a peasant life scene of the de Groot family, otherwise known as potato eaters. Vincent chose to portray the poverty of these hard-working people with who he greatly admired and became closely acquainted. The Potato Eaters painting gave Vincent the credibility he needed to warrant a career as an artist.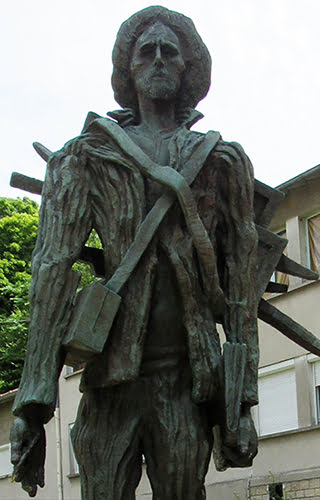 Having been offered use of the parsonage annex as a studio by his protestant minister father, Vincent stationed himself there but would often venture further afield to paint. Sometimes he would travel for days at a time to smaller towns where he would paint plein-air.  One of those towns was Eindhoven, which is likely where he painted  "Hut with man coming home" (JH 824). "Woman with Goat" (JH 823), "Dilapidated Barn and a Bending Woman" (JH 825), and "Hut with Digging Woman" (JH 803) among others. (Read more about Vincent's time in Eindhoven here).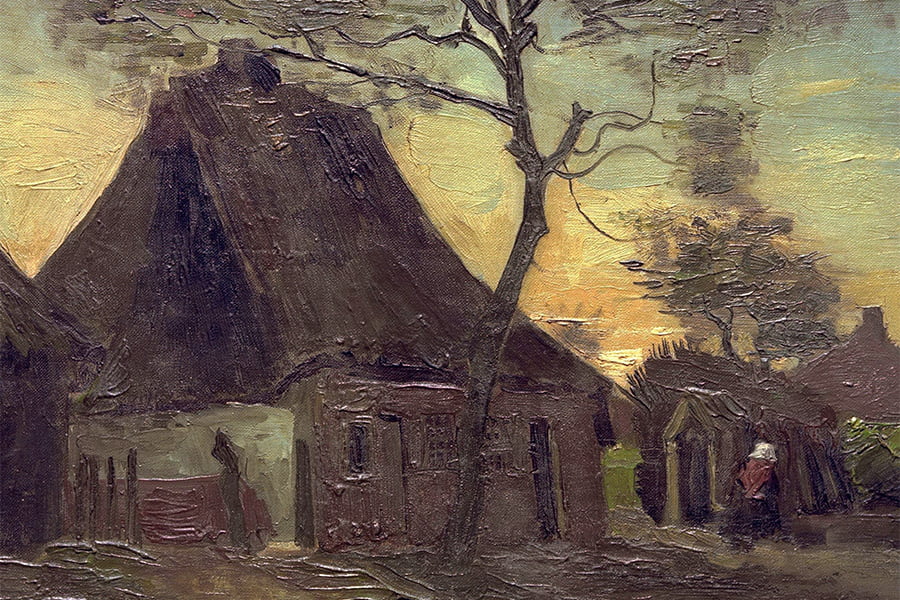 In late 1885, Vincent left Nuenen, and travelled to Antwerp in Belgium leaving behind several of his drawings and paintings for when he returned. Instead of returning however, he decided to move to Paris where he lived with his brother, Theo. A year later, his mother Anna Cornelia van Gogh-Carbentus decided to also leave the town of Nuenen and move south to Breda, where she rented an upper part of a house for her and her daughter Wil (Wilhelmina) and Vincent's youngest brother, Cor.
Given that their new accommodations were significantly smaller, Anna-Cornelia decided to store some of her furniture and boxes with a local carpenter named Adrianus Schrauwen. Some of these belongings included crates of Vincent's wood engravings, books, paintings and drawings. 
Theo had visited his mother and sister in Breda during the summer of 1887, and knowing that Vincent was very attached to his wood engravings, he retrieved them for him, but left behind the paintings and drawing studies.
In April 1888, Anna Cornelia and Wil moved again into a smaller house with a garden on the Nieuwe Haagdijk. Carpenter Schrauwen helped them move with the use of his horse drawn cart, but having down sized again they were forced to leave Vincent's crates with Schrauwen. With this, they opened the crates to tear down the wood and placed all of Vincent's work loosely in the attic of Adrianus Schrauwen. It is also believed that traces of woodworm were found in the crates. 
As the years passed by, carpenter Schrauwen considered himself the rightful owner of Vincent's work because nobody had picked it up. The portfolio of drawings, sketches, and paintings was Vincent's entire Dutch oeuvre. Some of the paintings were stretched onto wood bars, but many were unstretched painted canvases.
In 1903, Schrauwen met with a local merchant named J. C. Couvreur who was to purchase some old brasswork from the carpenter. During their meeting whilst haggling over a fair price, Schrauwen accepted an offer dependent upon the removal of Vincent's work which sat piled up in a corner and was referred to as "rubbish". – J.C. Couvreur obliged, and among the "rubbish" was approximately sixty paintings, one hundred and fifty loose canvas paintings, eighty pen drawings and between one and two hundred crayon drawings. Crayon drawings were considered as having no real value and so were torn up on the spot and thrown away.  Couvreur stored Vincent's artwork in the basement of his house in the Stallingstraat in Breda. Although the nudes, which greatly offended Mrs. Couvreur, were recycled into paper at the Tilburg paper factory.
After a while, merchant Couvreur contacted a dealer in Rotterdam called De Winter with the hopes of selling Vincent's paintings, but was told they were of no value. With this, Couvreur decided to try his luck by selling them at a local flea market where he had cart. In a Telegraaf newspaper article he stated:
"I have stood on the market with a cart for thirty years. I pinned the drawings and paintings of Van Gogh on the cart with thumbtacks and anyone could have one for ten cents. Sometimes I gave them to the children on the street to play with. One of those pieces I had to buy back later for seventy-five guilders."
In another article in February 1950, he told the Breda newspaper De Stem that he also delivered some paintings to Frans and Willem Meeuwissen, the owners of the café at the corner of Ginnekenstraat and Stallingstraat, who hung them behind the counter and sold them for 5 and 10 cents, or gave away to customers.
The remainder of Vincent's elusive paintings were purchased by a Mr. C. Mouwen, a local tailor who knew a deal when he saw one and scooped them up for mere cents. Mouwen had contacted art expert Hendrik P. Bremmer,  who attributed the entire collection to Vincent van Gogh and in turn advised him to sell the works through Gallery Oldenzeel in Rotterdam.
It was soon after, that an article appeared in the Nieuwe Rotterdamse Courant of the now famous Vincent Van Gogh. Couvreur rushed to try an buy back some of the paintings he had sold to the locals to resell them at a higher price.
There were several incidences from this time period that makes one shudder. It is said that carpenter Schrauwen had given 13 paintings to a lady friend so that she could use them to repair holes in the wall simply by nailing them over the hole where they were exposed to the elements. After Couvreur found out about the paintings he purchased them from the woman for 100 guilders, and sold them to Mouwen for 300 guilders.
Most of the paintings purchased by Mouwen he had repaired by a painter known as Van Loon. Mouwen then contacted an art expert who lived in The Hague, Hendrik Bremmer. Bremmer attributed the entire collection to Van Gogh and advised Mouwen to have the paintings commissioned with art dealer Oldenzeel in Rotterdam  Some fifty paintings were used for a series of exhibitions in January, May and November of 1903. When Theo's widow, Jo Van Gogh-Bonger found out about the exhibitions, she hired attorney J.M. Jolles to look into the matter, claiming that her son (Vincent's nephew) would be the rightful heir. The three exhibitions caused quite a controversy initially for the simple fact the Van Gogh family had no knowledge of such paintings existing, at least not Jo Van-Gogh Bonger
The investigation determined that the works came from the studio that Vincent had left behind in Nuenen: but while this was all undergoing assessment, Mouwen auctioned off any unsold work at the Frederik Muller in Amsterdam. Unfortunately for Mouwen, the auction was a  disappointment having sold only 11 works.  Attorney Jolles ordered he remove all items other than the 11 sold, for which Jo's son, Vincent Willem Van Gogh received a percentage.
During attorney Jolles investigation, his notes claim that a Willem Van Bakel also receive a percentage from the auction. It is perceived that Mouwen and Van Bakel were working together; but there is also a suggestion that he may have owned a different crate of works by Vincent, or at least some of the paintings. Louisa Daeter-Egers who was the daughter of Van Bakel's uncle, claimed that her father had owned a crate containing at least 80 Van Gogh works. This would lend us to wonder that perhaps not all of the work from the auction was from the abandoned Breda crates claimed by Schrauwen, and in turn Couvreur. There is no evidence to suggest either way.
The names of all buyers were apparently not recorded, just as some of the paintings exhibited for sale at the Oldenzeel gallery are not listed in the De la Faille 1928 or 1970 catalog raisonné .
Beach at Scheveningen in Calm Weather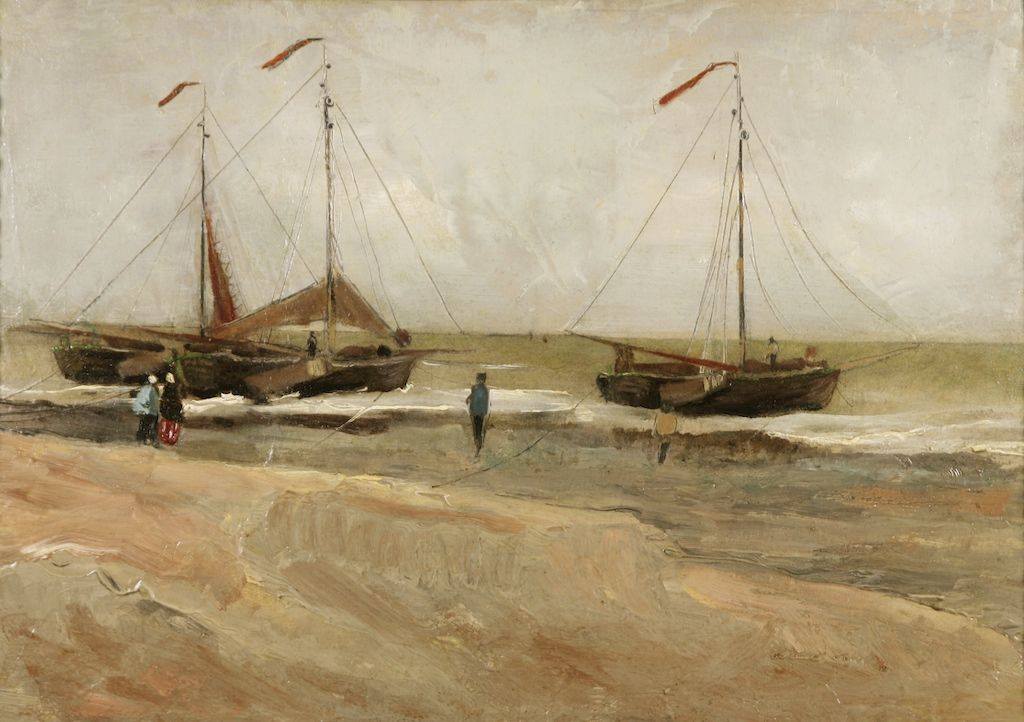 oil on paper mounted on board
14 ⅛ by 19 ⅝ in. 35.5 by 49.5 cm.
Executed on 11 August 1882.
Vincent wrote about the painting in a letter to Theo August 10, or 11 1882, which also included a sketch of the study.
Robert Kierlin, an American businessman and former politician, purchased Beach at Scheveningen in Calm Weather at auction for $ 2,833,000 then exhibited the work at Minnesota's Marine Art Museum in Winona, from 2010 – 2022.
Traces of early works by Van Gogh remain elusive. It is impossible for there NOT to be other Van Gogh paintings out there. Vincent himself gave away or traded paintings, sometimes to pay off debt as he had with supplier Wilhelmus Leurs, who at one point received a crate of paintings from Vincent – many of which were of cottages.
There would have been paintings all over Europe unaccounted for, and to this day many are in private collections. Many rejected as being fakes by art dealers, as well as the Van Gogh Museum itself. While it is true that there have been many forgeries passed on as authentic, and later found out to be forged, and since cataloged as such, there are also authentic Van Gogh paintings passed off as fake. 
Women Mending Nets in the Dunes – August 1882 – Vincent van Gogh
Between 1902 and 1904, Ribbius Peletier had purchased 8 of Vincent's paintings from his Dutch period through the Oldenzeel exhibitions. He decided upon Mending the nets instead of Peat Barge, as well as; Evening twilight in autumn, Shepherd with flock beneath a stormy sky, Gennep watermill and Woodgatherers in the snow.
The five paintings mentioned above, purchased in 1903 came from the Breda Crates. Seascape at Scheveningen, also purchased by Ribbius Peletier came from the Breda Crates. – In 2018, Women mending nets in the dunes ( Racommodeuses of nets in the dunes) sold for 7.07 million euros!
It makes you wonder, what other oil paintings were in the crates that had been given away, purchased for pennies and never retrieved.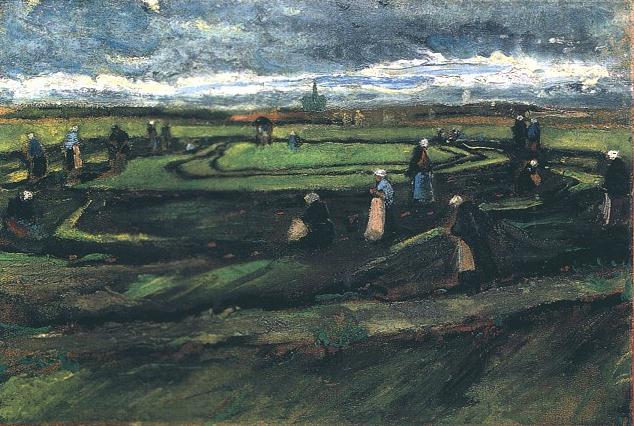 The Klusmann/Marijnissen Collection - A Fourth Crate?
In 1987, a German physician Georg Klusmann published a book entitled Vincent van Gogh: Unbekannte frühe Werke. It contains a selection of 95 works on paper, canvas and wood – including alleged portraits of Van Gogh's brother Theo and their father Theodorus – These paintings were also said to have come from the studio in Nuenen.  Klusmann claims to have purchased these works, 260 in all, from a local tax collector Adrianus Marijnissen.  'Examining the works more closely, I noticed that some of the canvases were signed "Vincent." As both the technique and the subject matter were reminiscent of Van Gogh, I believed I had found something special. I was able to purchase the whole box and its contents for a negligible sum.' It is thought that perhaps this collection was a fourth crate from Breda. 
Marijnissen turned to the Stedelijk Museum in Amsterdam for authenticity, but the curators were not entirely sure, and so called in an expert, Mauritz van Dantzig. His initial impression was that the crate of paintings were "mixed". Some could be attributed to Van Gogh, but not all of them. The director of the Stedelijk Museum wrote to Marijnissen that all the paintings were not by Vincent van Gogh, and so many of these paintings were given away by Marijnissen to friends. 
Van Dantzig meanwhile, continued his research and examination and came to the conclusion that a painting with a hut was authentic. So, the fourth crate did not prove to be entirely Van Gogh, but the first three from the Breda attic are.
In 2014, the Breda Museum held an exhibition: "Vincent van Gogh. Lost and Found. The mystery behind the boxes of Breda" examines the remaining paintings from the Marijnissen collection, as well as works from private ownership which very likely came from the first three crates.
There is a great deal of confusion to precisely determine who owned what and when, and where some of Vincent's original paintings came from. Paintings and drawings exchanged hands many times over, not all were recorded and there are clearly paintings by Van Gogh in private collections throughout the world, some of which have yet to be authenticated as the work of Vincent Van Gogh.
On Friday, 28 September 1883 Vincent had written to Theo that he had left "more than 70 painted studies lying in The Hague: "Ik heb te s'Hage meer dan 70 geschilderde studies liggen– waren die maar van hier, ik zou er ook meer aan hebben gehad.–"
I have more than 70 painted studies lying in The Hague — if only they were of here, they'd have been of more use to me.
Some of these paintings were part of the Breda Crates. 
Vincent painted In the Dunes (In de Duinen) in September 1883 whilst living in the Hague – The painting had been in private collection for several years and was auctioned off by Christies in November 2014 for a sum of $1,805,000.
Of the 70 oils Vincent painted during this period, Christies noted that "only twenty-four have been catalogued thus far, including some known only through old photographs. Van Gogh painted a group of thirteen oils during August 1882, and another nine beginning in July the following summer–including the present landscape (left)–plus two others whose medium is uncertain". Provenance: Oldenzeel Art Gallery, Rotterdam (1904).
Additionally, when Vincent lived in Antwerp, Belgium above a small paint dealers shop it is believed that he completed at the very least 16 paintings – Only 7 remain and a number of drawings. In Jo Van Gogh-Bonger's memoir of Vincent, she mentions that he likely left them with his landlord to pay off any debt before leaving for Paris to live with Theo. It is also likely that some of them were painted over, as is the case with Terrace and Observation Deck at the Moulin de Blute-Fin, Montmartre which was painted over a scene of houses Vincent painted from his staircase in Antwerp. 
Vincent also traded his paintings with other artists such as Emile Bernard, Pissarro, Toulouse-Lautrec, Gauguin and others. The exact number of paintings he traded is unknown, as is the exact number of paintings Vincent gave away to friends and acquaintances throughout his brief career. There is no doubt however, that it likely amounted to several dozen.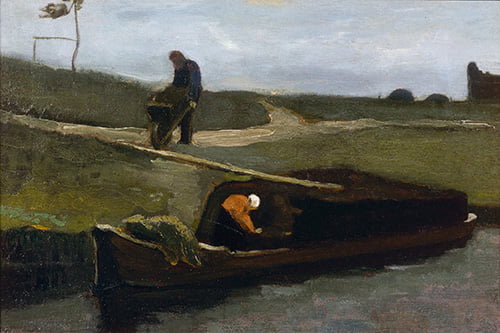 Missing paintings from DRENTH
Between September 1883 and February 1884, Vincent had sent three separate boxes of paintings for consignment to his brother Theo. 
The Van Gogh Museum are unsure as to what happened to all 12 of these paintings, stating that no more than six studies have survived from Vincent's Drenth period, and only three of them were in Theo's estate.